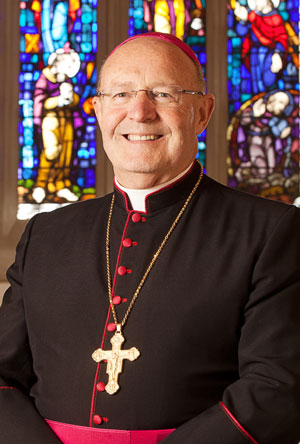 Archbishop Julian Porteous is the proud patron of Family Life International (Aust). and has often led our Day of the Unborn Child March and numerous Helpers vigils. He shares our deep concerns about the life issues and believes that Christ and His teachings must  be brought into the public square.
The most Rev. Archbishop Porteous was named Auxillary Bishop of Sydney by Pope John Paul II in July 2003 and was installed by Cardinal George Pell at St Mary's Cathedral on 3rd of September 2003, choosing as his motto "Gratia et Veritas" – "Grace and Truth".  Archbishop Porteous was appointed Rector of the Seminary of the Good Shepherd, Sydney, in January 2002 and served in this role until the end of 2008. He has been an advocate of the New Evangelisation called for by Pope John Paul II and has organised two colloquiums on the New Evangelisation and two congresses in 2009 and 2010 (SCENE). Archbishop Porteous became Patron of FLI's 40 Days for Life Campaign in 2010 helping to make this ground-breaking campaign a great success. In June 2013 he was appointed Archbishop of Hobart and was installed on the 19th of September, 2013.
Archbishop Porteous has also written a great number of books, such as After the Heart of God: The Life and Ministry of Priests at the Beginning of the Third Millennium, Prayers for Those Suffering Spiritual Affliction; and his most recent , Becoming Who You Are: Growing in Christian Character (2012).
In what little spare time he has, Archbishop Porteous enjoys bushwalking, swimming, tennis and cheering on the Wallabies.
Rev Dr Murphy
Rev Dr Murphy graduated with a Bachelor's Degree in Philosophy from the Pontifical University of Saint Thomas Aquinas (Angelicum) in 1987; then obtained his Bachelor's Degree in Sacred Theology from the Pontifical Urban University. Afterwards he undertook postgraduate studies in Moral Theology at the Same University in 1992. In that same year he was ordained to the priesthood in Wagga Wagga by Bishop William Brennan and appointed lecturer in Moral Theology at Vianney College, the Diocesan Seminary-a position he has held for 21 years. After Some years as a parish priest, he was sent back to Rome for further studies and completed his doctorate at the Urban University in Moral Theology in 2002. At that same time he worked for the Holy See as a minutante in the Secretariat of the Congregation for the Evangelisation of Peoples. Since then he has been appointed parish priest of Lavington and published a book entitled Pure Attraction: A Guide to Human Sexuality. He is also a session lecturer at JPII institute in Melbourne.
Wanda Skowronska
Wanda Skowronska is a registered psychologist. She has a PhD in Psychology/Theology at Melbourne's John Paul II Institute and has been appointed a sessional lecturer there. She alsohas two masters degrees and has worked in several NSW schools as a counsellor. Over the Past 20 years, she has worked with thousands of young people in areas of Educational psychology and various areas of distress involving family break-up, abuse, loss, trauma, self-harm and other crisis situations. Wanda has been with FLI for many years and also works with the Helpers of God's Precious Infants assisting with pregnancy counselling or post abortion counselling where needed. She has also been part of the Cairo+5 pro-life lobbying team at the United Nations and being an Australian of East European background, she has travelled to Eastern European countries like, Latvia, Poland and Russia, to meet lesser known pro-life groups who work there with little assistance. Wanda has researched and written numerous articles for a variety of journals and newsletters on issues related to psychology, religion and pro-life. Wanda's special pro-life focus is spiritual adoption of the Unborn, which she promotes tirelessly in Australia and overseas.
Dr John Obeid
Dr Obeid graduated with honours in Medicine from the University of Sydney in 1992. He completed specialist training in Internal Medicine and advanced training in Geriatric Medicine at Concord Repatriation General Hospital and Nepean Hospital, Sydney. He was awarded the Fellowship of the Royal Australasian College of Physicians (FRACP) in 1998. He is a Senior Staff specialist in Geriatric Medicine and stroke at Blacktown – Mt Druitt Hospitals and a Senior Visiting Medical Officer at Fairfield, The Hills Private and Norwest Private Hospital. Dr Obeid has a keen interest in teaching and is the Director of Prevocational Education and training at Blacktown Hospital. He sits on the Federal Council of the Australian and New Zealand Society for Geriatric Medicine (ANZSGM). His special interests are delirium, dementia, stroke, and Parkinson's disease. He is passionate about improving the quality of care given to older people promoting the rights and dignity of the frail aged. Dr Obeid is married and lives with his wife and children in Sydney.
Dr Deirdre Little
Dr Little is a practicing GP Obstetrician and a Visiting Medical Officer at Bellingen Hospital where she has provided intrapartum obstetric care for 27 years. She helps at the local hospital's accident and emergency unit and works in a group private practise with her husband who provides the region's anaesthetic service. Deirdre is the Bioethics Officer for the Catholic Women's League in N.S.W. and has articles concerning prenatal screening and testing published in the secular press and has spoken at various venues in Australia. In 2012 Dr Little co-authored a discussion paper with Dr Harvey Ward on cervical cancer vaccines such as Gardasil which was published in the British Medical Journal and has written extensively on that subject and given numerous talks.
Dr Foong
Dr Foong graduated from University of Tasmania with a medical degree in 1985 and began to work as GP in Sydney 1990. He has a special interest in NaproTechnology – an effective and moral form of fertility care. Andrew is also a Catholic apologist and former Catechist, being the past Coordinator of the Communications course at the Sydney Archdiocesan Seminary and teacher of Theology of the Body at the Catholic Adult Education centre at Lidcombe. Andrew married Marian Grima, a High School Teacher, in 2006 and now has 4 children.
Mr Michael McAuley
Mr McAuley is a Sydney Barrister, having practised for over 25 years. His area of practise includes crime, medical negligence, posttraumatic stress disorders, wills and estates, administrative and commercial law. He has a Bachelor of Arts and a Bachelor of Law from the University of Sydney, as well as a Masters of Bioethics from the John Paul II Institute for Marriage and Family, Melbourne. Michael is a vice president of the St Thomas More Society. He and his wife Kaye have 6 children.
Mr Pierre Safi
Mr Safi completed a double degree in Economics and Law at UNE, Armidale in 1995. He was admitted as a solicitor of the Supreme Court of NSW in 1997 mainly in the area of commercial law and entered into partnership of a law firm in 1999. Receiving an unrestricted practising certificate in 2001 he began operation as a sole practitioner of his firm which currently employs 9 staff including 3 other Lawyers. Pierre married Amal in 1999 and now has 5 children.
Mr John Anderson
Mr John Anderson AO MA Spent many years in Federal Parliament having been elected as the member for Gwydir in 1989. He became the leader of the National Party and deputy Prime Minister of Australia in 1999, serving in that capacity until 2005 when he retired as leader of the Party and then from Federal Politics at the 2007 elections. John's family have been graziers and landowners in the Gunnedah region for over 150 years and John continues in that tradition. On the 13th of June 2011 he was recognised for his service to the people of Australia being awarded the Officer of the Order of Australia. John is married to Julia and they have 5 children.