The day was fast approaching. We were looking forward to February 16th 2022, the due date of our first child. We were amazed at how quickly time went by during the pregnancy. Everything was normal and our baby boy was healthy, as far as we knew. We enjoyed feeling him kick occasionally and joked about him becoming a professional soccer player. We were excited and nervous at the prospect of welcoming our first child into the world.
Early in February, my wife Monica started having contractions. This continued for a couple of days. This seemed normal enough. However, a mother's instinct is a gift from God and sometimes she knows better than the medical professionals. She had a feeling something was wrong and contacted the hospital, describing what she was experiencing. The midwife reassured her that everything was normal. However, this wasn't the case and thankfully we decided to go to the hospital on the evening of Saturday 5th February.
This is when things changed dramatically. The doctor quickly discovered that our baby's heart rate was dropping significantly with each contraction. The atmosphere in the room completely changed and there was a worried look on the doctor's face. She informed us that an emergency caesarean section was required immediately. Monica's placenta had ruptured and our baby was in distress, ingesting waste and blood. We found out later that the umbilical cord was also wrapped tightly around his neck. We became numb with shock but didn't have time to process anything. Within fifteen minutes Monica was being wheeled away to the theatre. I followed, but was not allowed in, as per policy when a patient is put under general anaesthesia. We had a few brief seconds to say goodbye to each other. I traced the sign of the cross on her forehead and told her to trust in God. I watched as she disappeared behind some doors, and I then had to make the lonely walk back to our room.
Over the next ninety minutes or so time passed very slowly. So many thoughts were going through my mind. Are we going to lose our baby? How do you organise a funeral for a newborn? If he survives, will he have long term health problems? Will Monica be okay? How long until I get some news? I quickly made some calls and sent some text messages. Firstly, I called my mother and mother-in-law, informing them of the situation. I then sent texts to a couple of priest friends, who assured me of their immediate prayers. I soon learned that my brother and my sister-in-law visited the local 24/7 adoration chapel to pray for our son, which brought me great consolation. I then did the only constructive thing I really could do – I turned to God in prayer. I offered the Rosary for my wife and son, which enabled me to raise my thoughts to heaven and contemplate divine mysteries. Although it was difficult to concentrate and my mind was wandering more than I'd like, these 20 minutes were powerful and gave me the strength I needed to face the uncertainty ahead.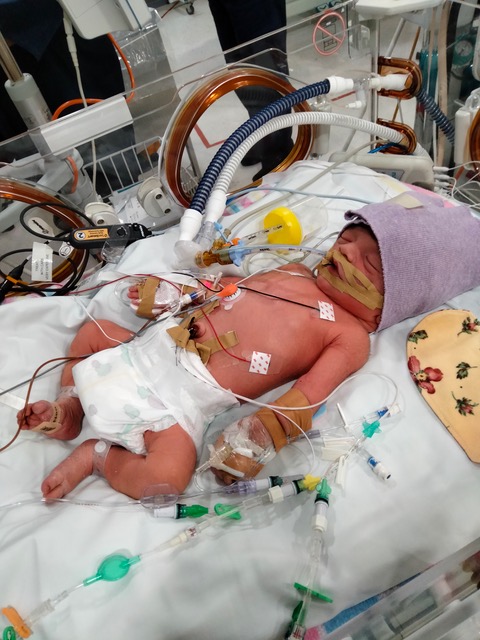 Finally, after what seemed like many hours, a nurse informed me that our baby boy was in the nursery nearby receiving treatment, and that Monica was fine but still recovering from the surgery. I was allowed to enter the nursery for a 'quick look' at our son, and this was a sight that will forever be burned into my brain. There he was laying there, completely lifeless and limp, with an oxygen mask placed over his face and hospital staff frantically working to keep him alive. He weighed a tiny 2.6kg. I was ushered out of the room after what felt like only seconds. The Neonatal Emergency Transport Unit (NETS) team were called and attended to our son, working on him through the night and into the early hours of the next morning.
During this time, I was mostly in our room alone until Monica finally arrived, drowsy and confused. She had no idea what happed after the surgery, so I had to delicately inform her of the situation and do my best to keep her hopes up. At this point we confirmed with each other the name we would give our son – Lovre (Croatian for Lawrence), after the 3rd century deacon and martyr.
At some point during the early hours of Sunday morning, I was given an opportunity to observe the NETS team working on Lovre. Monica was asleep at this time, so I went and spent about half an hour sitting close by, watching as the NETS team worked to keep him alive. They had been working on him for some hours already. It was a strange experience, and I had difficulty processing what was happening. Then I asked the question you are not supposed to ask; "is there was any chance we were going to lose him"? The silence over the next few seconds spoke louder than words. A nurse close by kindly told me the NETS team were unable to answer that question but my son was in good hands, getting the best possible care. It was at this point that I began to contemplate an emergency baptism.
Losing my son without baptism was something I would not accept, so I mentioned this idea to the medical staff. I was granted permission and decided to wait until we were together with Monica. As it turned out, Lovre ended up having to be transferred to another hospital to receive specialist care, but before he was transported, he was taken to Monica's room to allow her to finally meet him, some eight hours after the birth. He was in an incubator and sedated, but she got to see our son's face for the first time. I took the holy water that I had packed into our bag earlier that afternoon, and through an opening in the incubator I poured it over his head three times, whilst saying the words "Lovre, I baptise you in the name of the Father, and of the Son, and of the Holy Spirit".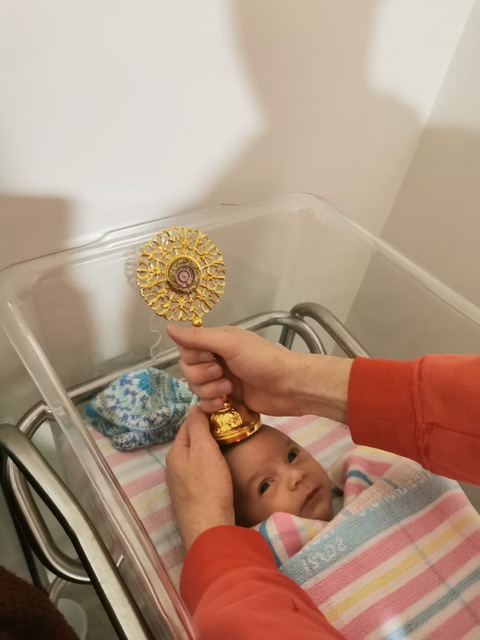 Lovre was now a Christian, a child of God, and a deep peace came over Monica and I. This moment was a special grace from God amidst all the uncertainty. I then had to follow Lovre and the NETS team to the other hospital, leaving Monica behind. A husband's instinct is to protect his wife and be by her side in difficult moments, but both of us understood that I had to go. I arrived at the Neonatal Intensive Care Unit (NICU) at approximately 5am. At this point I didn't know whether Lovre survived the trip, so it was a huge relief when I learned he was still alive. However, I couldn't be by his side until after the doctors had finished their initial assessment and handover with the NETS team. As I was standing in the corridor one of the doctors approached me and gave me an update on Lovre's condition. He had severe breathing difficulties and dangerously low glucose levels. He was being treated for both issues, and there was no indication when he might recover.
Later that day Monica was transferred to the same hospital to continue her recovery. We were visited by our friends Fr. Epeli Qimaqima and Fr. Daniele Russo. Unfortunately, they were declined entry into the hospital due to visitor restrictions, however I was able to go outside to see them. Fr. Epeli intended on anointing Lovre with the oil of the sick and Confirming him. As he was unable to do so, he offered his prayers and encouragement. Fr. Daniele brought Holy Communion – Jesus himself – the most precious gift in our hour of need. This was a great consolation to us and a beautiful memory to look back on during such a dark time.
During those initial days in hospital all we could do was touch Lovre's leg and speak to him in the hope that he could hear us. Three days would pass before we saw him open his eyes for the first time, and eight days before Monica could hold him for the first time. Unfortunately the NICU began to enforce their 'one parent only' policy upon us, which meant that only one parent could be with their baby at any given time. This policy was due to fears about Covid and was apparently 'for our health'. Separating parents at such a traumatic time seems to me to be cruel and unjust, but despite my complaints going all the way to the NSW Premier's Office, nothing changed and we had to comply.
Monica was discharged from the hospital after three days, and so began our daily routine of driving to the hospital, usually twice per day, and coming home late at night to a quiet, empty house. This was a difficult time for us, as we had no idea when Lovre would be discharged or even if he would fully recover. Ultimately, Lovre would end up spending nearly seven weeks in the NICU before he was well enough to come home. Over the seven weeks he required various medical interventions, such as breathing support, a feeding tube, cannulas in his arms and legs for medication, and constant tests and scans. The nurses had to draw blood from his tiny foot every 6 hours to monitor his blood glucose levels. A brain MRI was also performed to see if he had permanent brain damage due to the oxygen deprivation at birth. Thankfully the MRI results came back all clear.
All throughout the time in the NICU, our families were a huge source of support, not only emotionally but also practically. They cooked meals for us, delivered groceries, cleaned our house, and made sure we had nothing else to worry about. Many of our family and friends were praying for us during this time, and we became aware of different networks of people offering their prayers and fasting for Lovre's recovery. The numbers were into the hundreds. This was very humbling for us, and we genuinely felt like a heavy load was lifted from our shoulders. We are absolutely convinced Lovre's recovery was due in large part to the power of prayer. I was also privileged to be able to bless Lovre with first class relics of St. Gerard Majella and Pope St. John Paul II and seek their intercession from heaven.
It was a very slow process, but over time Lovre got better and finally on March 25th, the feast of the Annunciation, we were able to take him home. This was the day we were hoping and praying for and could hardly believe it when it came. At last, Lovre could meet his grandparents, great grandparents, uncles, and other family members. For a few months afterwards, ongoing medical treatment was required at home and at various specialist appointments. But he was home with us, and we were so overjoyed and relieved. Finally we could start trying to live a normal life with our son.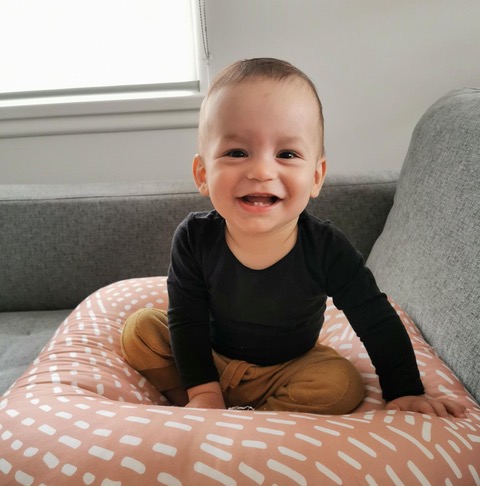 Lovre turns one on 5th February 2023. He is doing amazingly well and has forgotten all about the NICU. He still has occasional specialist appointments to make sure everything is okay. We are so grateful and happy. We know that God worked a great miracle for us.
 I will give thanks to the Lord with my whole heart; I will tell of your wonderful deeds. I will be glad and exult in you. – Psalm 9