Suggested Meditation on
the Sorrowful Mysteries
Commonly said on Tuesday and Friday
You can print this page by clicking the symbol below

---
The First Sorrowful Mystery
The Agony in the Garden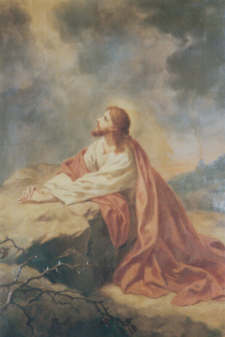 Jesus' sweat became as drops of blood running down upon the ground. "Father,
if it is possible, let this cup pass away from me; yet not as I will, but as Thou
willest."
Let us pray


For those who assist pregnant women and girls in their time of fear
and loneliness.
Then cometh Jesus with them unto a place called Gethsemane, and saith unto the disciples, Sit ye here, while I go and pray yonder. And he took with Him Peter and the two sons of Zebedee, and began to be sorrowful and very heavy. Then saith he unto them: "My soul is exceeding sorrowful, even unto death: tarry ye here, and watch with me". And he went a little farther, and fell on His face, and prayed, saying: "O my Father, if it be possible, let this cup pass from me: nevertheless not as I will,
but as thou wilt". (Matt 26,36-39).
And being in an agony he prayed more earnestly: and His sweat was as it were great drops of blood falling down to the ground. (Luke 22,44)
---
The Second Sorrowful Mystery
The Scourging at the Pillar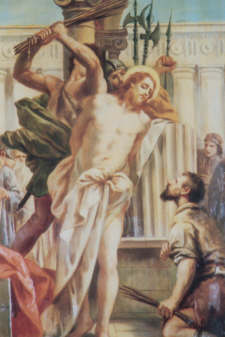 I gave my back to those who beat me, my cheeks to those who plucked at my
beard; my face I did not hide from shame and spitting.
Let us pray


For parents who welcome new life in spite of hardship.
When the morning was come, all the chief priests and elders of the people took counsel against Jesus to put Him to death. And when they had bound Him, they led Him away, and delivered Him to Pontius Pilate the governor. And Jesus stood before the governor: and the governor asked Him, saying: "Art thou the King of the Jews?" And Jesus said unto Him: "Thou sayest". And when he was accused of the chief priests and elders, he answered nothing. Then said Pilate unto Him: "Hearest thou not how many things they witness against thee?" And he answered Him to never a word Pilate saith unto them: "What shall I do then with Jesus which is called Christ?" They all say unto Him: "Let Him be crucified!" And the governor said: "Why, what evil hath he done?" But they cried out the more, saying: "Let Him be crucified!" (Matt 27).
And so Pilate, willing to content the people, released Barabbas unto them, and delivered Jesus, when he had scourged Him, to be crucified. (Mark 15,15)
---
The Third Sorrowful Mystery
The Crowning with Thorns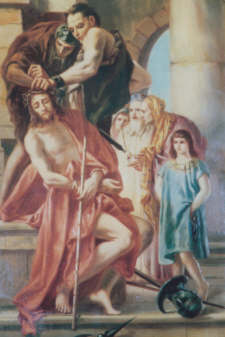 They clothed Jesus in purple, and making a crown of thorns, they put it upon
Him… They kept striking Him on the head with a reed and spitting upon Him.
Let us pray

For people who are suffering from the trauma of abortion.
Then the soldiers of the governor took Jesus into the common hall, and gathered unto Him the whole band of soldiers. And they stripped Him, and put on Him a scarlet robe. And when they had platted a crown of thorns, they put it upon His head, and a reed in His right hand: and they bowed the knee before Him, and mocked Him, saying: "Hail, King of the Jews!" And they spit upon Him, and took the reed, and smote Him on the head. And after that they had mocked Him, they took the robe off from Him, and put His own raiment on Him, and led Him away to crucify Him. (Matt 27,27-31)
---
The Fourth Sorrowful Mystery
The Carrying of the Cross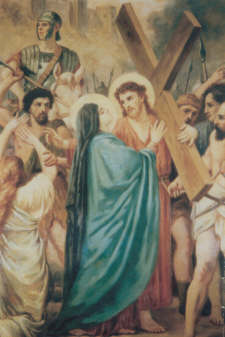 Bearing the cross for Himself, He went forth to the place called the Skull, in
Hebrew, Golgotha.
Let us pray

For parents who love and care for God's exceptional children, sick
and handicapped babies.
As they were leading Him away they seized on a man, Simon from Cyrene, who was coming in from the country, and made Him shoulder the cross and carry it behind Jesus. Large numbers of people followed Him, and women too, who mourned and lamented for Him. But Jesus turned to them and said, 'Daughters of Jerusalem, do not weep for me; weep rather for yourselves and for your children. For look, the days are surely coming when people will say, "Blessed are those who are barren, the wombs that have never borne children, the breasts that have never suckled!" Then they will begin to say to the mountains, "Fall on us!"; to the hills, "Cover us!" For if this is what is done to green wood, what will be done when the wood is dry?' Now they were also leading out two others, criminals, to be executed with Him. (Luke 23,26)
---
The Fifth Sorrowful Mystery
The Crucifixion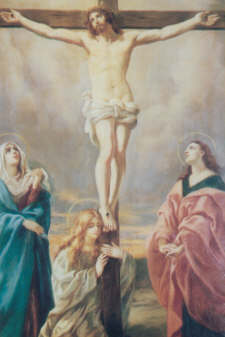 Then they crucified Him, and divided His garments, casting lots for them to see
what each should take…. bowing His head, He gave up His Spirit… He humbled
Himself, becoming obedient to death, even death on a cross.
Let us pray

For the souls of our pre-born brothers and sisters who have died and
will die in this chamber of death.
Now there stood by the cross of Jesus His mother, and His mother's sister, Mary the wife of Cleophas, and Mary Magdalene. When Jesus therefore saw His mother, and the disciple standing by, whom he loved, he saith unto His mother: "Woman, behold thy son!" Then saith he to the disciple: "Behold thy mother!" And from that hour that disciple took her unto His own home. (John 19,25-27)
---