It's not an exaggeration to say that FLI's recent conference was the best I've ever attended. With a line-up of engaging speakers, a thoroughly family-friendly venue, a hard-working and helpful organisational team, and over 500 attendees, FLI has set the bar high.
From the moment we checked into our comfortable 3 bedroom cabin at the Lake Hume Resort, and made our way to the registration desk in the main conference building, we felt a buzz of excitement. As we walked those few hundred metres, we passed dozens of familiar faces – pro-lifers from home and interstate, people we saw every week or only once every few years. There were plenty of new faces too that I looked forward to meeting.
If I was enjoying myself already, our four young children were in Catholic Kid Heaven! Many of our friends from Sydney were there with their offspring, lured by FLI's promise of free child-minding during all conference sessions. The registration area could almost have been mistaken for a playgroup meeting, but if the smiling volunteers behind the desk felt overwhelmed by it all, you couldn't tell. I barely had time to exchange travel stories with a couple from Toowoomba before I found myself a fully registered, name­tag-wearing, information-pack-carrying, conference attendee.
Now it was time to make our way to the conference Chapel. At other times an ordinary, fairly bare room, it had been transformed by Albury's talented pro-life design team into a beautifully appointed Chapel, complete with statues, draperies, religious artworks and high altar.
FLI's popular Patron, Bishop Julian Porteous, celebrated the opening Mass, which was followed by dinner in the Our Lady of Guadalupe Room (all the rooms having been fittingly renamed to reflect their new pro-life purpose).
The schedule in our conference packs showed that most talks were double streamed which meant we faced some difficult choices.
Thankfully the two international speakers, Steve Mosher and Monsignor Philip Reilly, who were scheduled to speak in the same time slot, repeated their talks the following day, so no one missed out (unless they chose to hear the saintly Monsignor twice, as I heard one chap did!).
With over 500 enthusiastic pro-lifers in attendance, most of the talks were absolutely packed. A few times I found myself sitting on the floor at the back because all the chairs were taken. I have to admit I found this position felicitous since it put me in the company of university students, the parents of young babies (who needed a quick getaway if bubs started crying) and those rarest of all creatures, the courteous teenager! It was living proof of how young and vibrant the pro-life movement is in Australia.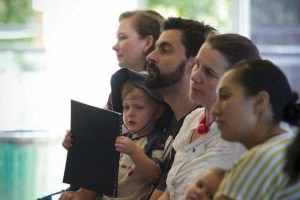 If further proof were needed of the youthful demographic, you only had to walk across the resort grounds to the Infant of Prague Room. Here, around 120 kids (aged 2-15) were being entertained and exhausted by the kindest crew of young adults a mother could ever hope to meet. I cannot praise the efforts of these young people highly enough. It was quite a task they took on, without which many parents would simply not have been able to attend the conference talks.
As well as these beautiful, intelligent, generous, faith-filled young people (the complimentary adjectives truly are endless) the children were blessed to spend time with the lovely Dominican Sisters from Ganmain who ran catecheses, craft and sport sessions for all age groups. It was a genuine joy to see our sons' faces light up when they saw the Sisters walk by and to watch the boys race towards them to say hello every chance they got.
I have to admit to being similarly star struck by a number of the conference speakers and even a few of the attendees (like the ever faithful and gentlemanly, Rev Fred Nile who attended all sessions). To nod hello, or spend a few minutes chatting to Monsignor Reilly, or any of the excellent priests (Fr Terence Naughtin, Fr Gregory Jordan, Fr Peter Murphy, to name just a few) was a real privilege. To spend time in the company of thoroughly pro-life doctors (like Dr Deidre Little, Dr Andrew Foong or Dr Joe Suttie) and other Catholic professionals (like barrister Michael McCauley, psychologist Wanda Skowronska or economist and educator Eamonn Keane) could certainly be counted among life's little joys.
In fact, having all these great speakers gathered together, to have kids happily playing with others who shared their faith and values, to have holy nuns and priests providing counsel and the sacraments, to have the company of hundreds of other Australian pro-lifers, and to have ALL THIS in the beautiful setting of Lake Hume outside Albury, really made this conference an uplifting and memorable experience.
Living on site for the duration of the conference – among the cabins, motel rooms and conference buildings – with hundreds of like-minded souls was like a Utopia. A friend in a neighbouring cabin commented that this is what Heaven would be like, "Although we'll be in mansions hopefully, not three bedroom fibro cottages!" she added.
For three days, we really felt we lived in a "Culture of Life" which welcomed the young and the elderly and gave families the support they needed to live a grace-filled life. The credit for this rests squarely on the shoulders of the hard workers at Family Life International and the many generous volunteers from Albury who made this conference the success it was. For over two decades, FLI has been bravely reiterating the complete message of God's plan for Love and Life. The organisation's 'total approach' to the life issues has gradually gained currency among pro-lifers all over Australia who are more and more disillusioned with a piecemeal defence of life which ignores the damage done by sex education, contraception, same-sex 'marriage' and other attacks on the family.
The recent conference in Albury proved once and for all that FLI not only talks the talk of being pro-life and pro-family, it most definitely walks the walk!